NEW BRUNSWICK, NJ – Juan Cordova learned new ways he could connect with the community. Anyi Padilla discovered the importance of communication within a group. Valeri Gomez found that collaboration brought her out of her shell.
There were many life lessons for these New Brunswick High School students and 47 others who participated in the Leaders in Training program, which concluded Tuesday with a graduation ceremony at the New Brunswick Performing Arts Center.
The Leaders in Training program was spearheaded by City Council President Rebecca Escobar and supported by several civic groups and local organizations including Youth Advocacy Program, Jingoli Inc., the New Brunswick Development Corporation (DEVCO), RWJBarnabas Health, the New Brunswick Police Department, the New Brunswick Cultural Center, REPLENISH of Middlesex County, and others.
Escobar, the director of the Middlesex County chapter of the Youth Advocacy Program, said students ages 14-18 spent eight weeks this summer exploring their interests and career pathways, developing workplace skills and engaging in hands-on learning community experiences that help to hone their social, civic and leadership skills.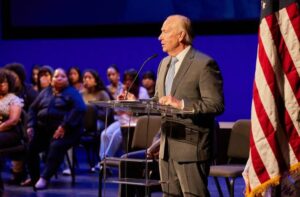 Through activities such as playing bingo with seniors, hosting a toiletries drive for the city's homeless population and organizing cleanups on streets and sidewalks, the students focused on career exploration, community building and engagement, wellness and social awareness, leadership skills and entrepreneurship.
And, all a while, they learned what it was like to earn a paycheck.
"When I started this program, I hoped that I would grow and break out of the shell I have been in for years," said Jamar Seawright, 18. "It did just that. Slowly but surely, I made new friends, made connections to help me in the future for college and having experience in the workforce."
The program expanded in its third year to 50 students, 15 of whom worked in the safety and security, patient transport and food services department at Robert Wood Johnson University Hospital.
Alan Lee, the president of Robert Wood Johnson University Hospital, said the Leaders in Training students were a constant and welcomed presence over the summer. And while he and the other mentors tried to inspire the students, it often worked the other way around.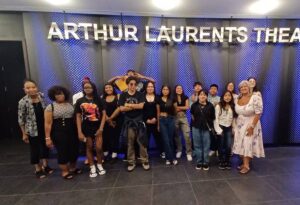 "I saw them every day because they would start their day right outside where the Children's Hospital is, and they would do a huddle all in their blue T-shirts," he said. "I would say to some of my team, 'I would love to join them at some point.' Frankly, it was selfish on my part because I wanted that sort of inspiration you get when you are around that sort of energy that the youth have."
He wasn't the only mentor who drew inspiration from the students' youthful enthusiasm. Connor Paladino of Jingoli, Inc., found himself looking forward to those two or three hours each Friday when he would speak with them about project management skills and opportunities in the building trades.
"Every week I came back, I saw growth and I saw the excitement in their eyes," he said. "I saw them grow up quite a bit in the two months I spent with them."
Mayor Jim Cahill, who helped hand out certificates to the students to mark the graduation from the program, said he drew inspiration from the students when they visited City Hall a few weeks ago.
"It was abundantly clear to me that they are ready to continue in their development in the in-demand skills that will shape our community in the years to come," he said.
Source: https://www.tapinto.net/towns/new-brunswick/articles/50-new-brunswick-high-school-students-are-leaders-in-training-grads